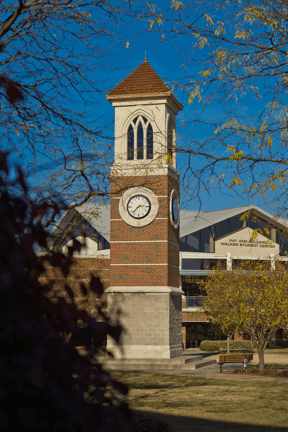 On Campus housing is now full.
Please see the Hotels tab for other NITOC housing options. Most rooms in the Siloam Springs area are already booked, but check the Springdale hotels listed on the Hotel Options tab, which have group rates for Stoa attendees. There are also many other hotels in the Springdale area that still have rooms available.
Just imagine! ☺
Rolling out of bed just a little bit later because you can walk to morning announcements!
Optional meal plans including a full buffet breakfast to start each day - no meager continental fare here!
A five minute round trip jog to your room midday if you forgot your Apologetics box... or spilled lunch on your tie... or need to switch jackets to match your Duo partner!
A recreation center to energize you diehards with a workout, and to refresh those who find the time to squeeze in a swim!
Staying on campus at JBU has all this in store for you and we look forward to welcoming you to your NITOC "home"!
Sunday Check-In is between 3:00PM and 6:00PM Sunday, May 19th.
No early check in is available.
Monday Check-In is between 10:00AM and 12:00 noon,
and again between 2:00PM and 4:30PM.
Except for extenuating circumstances, check-in can only be done during these hours, as JBU staff is involved in the process and these are the hours we have contracted with them.
You should be receiving an email shortly regarding Campus Housing Check-In. Please read it carefully and respond right away if you are unable to arrive during the designated times. We reserve the right to charge a $20 per room After-Hours fee, payable in cash at the time of each After-Hours check-in.
Important Information to Know:
Linen Packs: Each Linen Pack includes 2 bath towels, 1 washcloth, 1 blanket, 2 twin flat sheets, 1 pillow case (pillow not included - bring your own). As specified on the Campus Housing site, this optional item needed to be ordered prior to March 31st to be included in your registration. Double-check your reservation to see if you ordered them, and plan to bring your own supplies if you did not. We may be able to supply a limited number of additional Linen Packs for $10 each. Please email Stoa's NITOC Registrar, Mrs. Julie Braswell at 2ajul@comcast.net if you are interested in this option.
Linen Deposit: Linen Deposits of $50.00/Linen Pack, in the form of personal checks only, must be turned in during check-in to receive your linens. Check the JBU Housing Rules for details.
Keys: Each room will come with 2 keys. Lost keys will cost $25 each to replace, and payment will be required at time of replacement, or upon checkout if a key is not returned at that time.
JBU Rec Pass: As an on-campus resident, your NITOC name badge admits you to JBU's Rec Center free of charge during the week of NITOC. (Children under 14 need to be accompanied by a parent residing on-campus and will be admitted to the Rec Center based on their parent's NITOC name badge). Some restrictions apply; see the NITOC 2013 Campus Housing website for more details about the Recreation Center.
On-Campus guests are also responsible to know the following: